Recently I've been working on Hex, a Hacker News reader for Android. Here is is in action: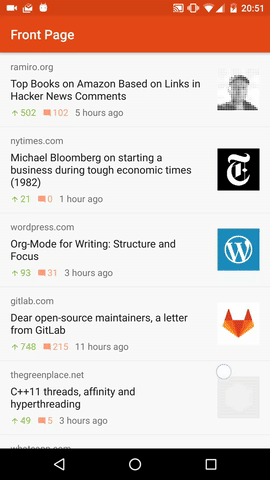 Hex's current feature set includes:
A beautiful, fast-loading front page with feature graphics
A distraction free reading experience
Easy swiping between articles and comments
Tap-to-collapse comment threads
Simple article and comment sharing
You can get the app today on the Google Play Store.
Overchoice
The is plenty of choice when it comes to Hacker News apps but there are a few itches I'm hoping to scratch with Hex:
Create something which is a joy to use
Provide a solid core experience for reading Hacker News
Enrich the existing browse and reading experience
Explore new experiences (made possible by Hacker News's official API)
These goals will guide Hex's development and roadmap in the months to come. I'm particularly excited about what can be done within the latter two!
Next
There are lots of new features and improvements planned for Hex. If you'd like to know what's coming up the whole development process is public, and if you've got ideas for where Hex should go I'd love to hear them! I'm also warmly welcoming anybody wanting to contribute to the project in any way, shape or form. I'm looking forward for what's to come next for Hex :)
Photo credit to Tatiana Diakova